Ever since I started my first fish tank back in October, a planted 16 gal., I've wanted to go bigger. Not only for the happiness of my fish, but also to redeem myself for all the mistakes I made with my "begginer tank".
Anyway, after lots of research, planning, and wallet draining purchases, I've put together a 75gal, heavily planted?, low light, semi-amazonian tank seen here.
Now for the heart of the matter. I set the tank up with substrate, rocks and driftwood on May 7th, filled it with water and turned on the filter. By june 3rd all my plants were in the tank. I had planned on doing a fishless cycle, but temtation got the better of me when I saw my LFS had black neons(a good cycling fish) for a dollar each, so I bought 10(they gave me 14 though). The fish were introduced on the 7th of June and the cycle countdown began, or so I thought...
...I tested four days later for ammonia and nothing. I've tested everyday since, and still nothing. Twelve days after adding fish I thought for sure I would be seeing some ammonia. Are the plants absorbing it all? I did add a small amount of food to the tank back in the middle of May, but surely this couldn't have produced enough ammonia to start a bacteria colony big enough to handle the 14 tetras?
I don't want to add more fish for the fear of getting a huge spike and killing everyone. Also, all the other fish I plan on adding (angels, corydora, oto, cardinals) don't cycle well from what I have read.
Am I just being impatient, or do I need to do something else to jumpstart the cycling?
Water Perameters seen below going left to right:
Phosphates- 0.5 ppm
PH - 6.8
Nitrite - 0 ppm
Nitrate - 0 ppm
Ammonia - 0 ppm
Not shown: Gh and KH are both 2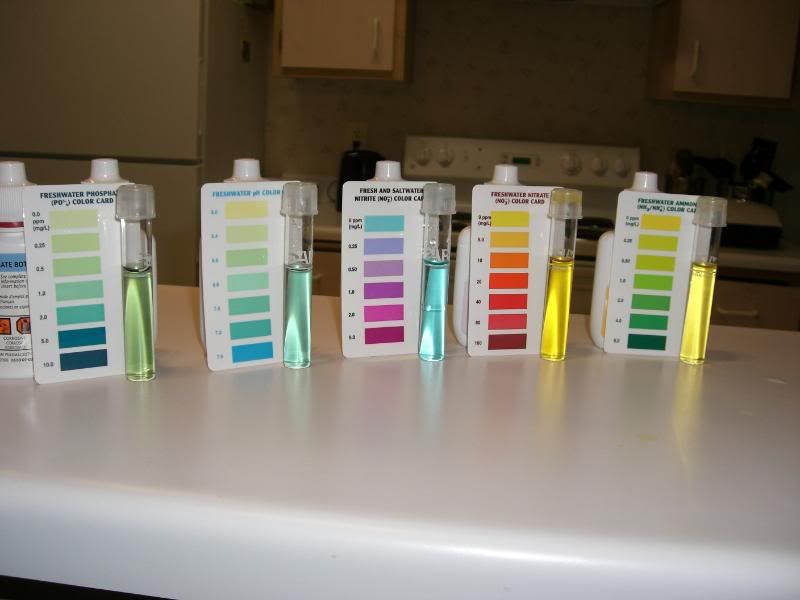 Other possibly useful info: The fish all appear healthy. Normal tetra behavior, eating well etc. I also tent to overfeed (I know, I know, I'm working on it.
)
If you can't see from the picture the plants are 50/50 fast and slow growers with about 1.7 watts pg. The hygro(temple), and the hygro difformis(wisteria) were clippings taken from my other tank.
The substrate is mostly the AquariumPlants.com substrate with two bags of eco complete mixed in. The rocks are all granite.
The tank is filtered with a fluval 405 with fluval prefilter rings in the bottom, filter floss and charcoal next, followed by more filter floss and bio media(ceramic rings), and last is more bio media and polishing pads. I also mixed a few handfulls of gravel from my other tank into the biomedia compartments.
The only chemicals I've added are API's Stress Coat/chlorine remover and AquariumPlants.com's substrate fertilizer pellets.
I hope this is enough info for all you aquarium aficionados to help me with my problem. Thank you in advance for any help or advice you can provide.
Cheers,
Jonathan